Advanced English Levels 7 & 8
An old adage says "non scholae, sed vitae discimus" (we do not study for school, but for life)
Anyone who signs up for evening classes will not only agree with that saying, but more importantly, he'll fully understand the meaning. It is from this perspective that this course aims to provide participants with opportunities to practice, Tools for understanding and the distance needed to make the best use of their learning in everyday life; because beyond the certificate, There is knowledge and self-confidence in the practice of English that they have acquired in themeantime, and which will undeniably constitute added value for the rest of their lives.
Likewise, the diversity of subjects, the accents and registers discussed in this course tend to prepare the learner to deal with any situation, whether travelling abroad, working with expatriates or simply socialising with "natives" or foreigners, whether at a formal meeting or on the convivial terrace of a pleasant Pub.
Arm yourself with your good humor and join the IAPS educational team to get your health back in the English language!
Course level
Level B2-independent user. The use of English to travel, to communicate orally and in writing is fluid although the mastery of vocabulary and grammar is still upgradeable. This level of English is required for most occupations corresponding to higher or university studies.
Prerequisite
Have finished the level 6 at IAPS or another school or pass a level test.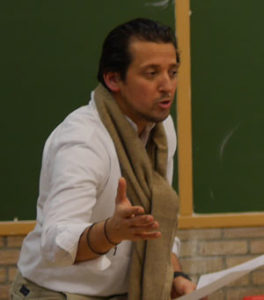 Smaïl BOUJIDA
English teacher
Schedule
Monday and Wednesday
from 6:45 pm to 9:30 pm
Next course session
from 5 September 2022 to 25 January 2023
Next session of courses at the UE8 level
February 1 to June 26, 2023
Objective
Course objectives
Oral production and pronunciation
The goal is to help you make your pronunciation an asset in your communication.
Listening
Familiarize yourself with a variety of accents in order to be able to understand a wide range of native or non-native speakers.
Reading comprehension and vocabulary
Enrich your lexical vocabulary on a variety of subjects and through idiomatic expressions, "collocations" and (so dreaded) "phrasal verbs".
Written expression and syntax
Improve your ability to effectively express your messages and thoughts in writing (using logical and coherent structures) by respecting the registry required by the context, be it familiar, formal or academic.
Interactivity
Exchange and debate in groups on specific topics and situations in order to be more spontaneous and self-confident in oral expression.