English perfecting EU9
Level C1 (Advanced) is the fifth level of English of the common European framework of reference for languages (CEFR), a definition of the different levels of language written by the Council of Europe. At this level, students can operate autonomously and with great precision on a wide variety of subjects and in almost all contexts, without any prior preparation.
What can you do with a C1 level in English?
A C1 level of English allows a full range of features at work or in an academic setting. Thus, level C1 would allow total autonomy in a native English-speaking country.
Course level
Level C1-standalone user. The use of English is mastered. You use the language spontaneously and understand effortlessly. Some of the native speakers ' subtleties are still to be acquired.
Prerequisite
Have finished the EU8 level at IAPs or another school or pass a level test.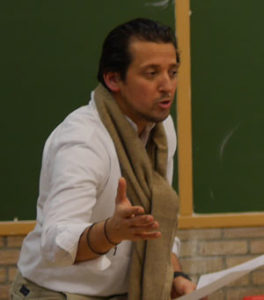 Smaïl BOUJIDA
English teacher
Next course session
from September 6, 2022
to June 27, 2023
Schedule
On Tuesday
from 6:45 pm to 9:30 pm
Objective
Course objectives
Oral production and pronunciation
Expressing his ideas fluently and spontaneously without too much searching for obvious expressions.
Listening
Understand a wide range of long and demanding texts, and recognize the implicit meaning.
Reading comprehension and vocabulary
Further enrich his lexical vocabulary on a variety of subjects and through idiomatic expressions, "collocations" and (so dreaded) "phrasal verbs".
Written expression and syntax
Produce clear, well-structured and detailed text on complex topics, showing the correct use of organizational models, connectors and cohesive devices.
Interactivity
Use language flexibly and effectively for social, academic and professional purposes.
Examples of activities and topics covered in class C1:
Speak out on societal issues, their impact on people and suggest possible solutions.
To express oneself on the risks of life, including the change of employment and the practice of dangerous sports.
Describe and explain spontaneously a work of art (painting, literature, cinema, etc…).
Understand the different communication styles (registers), formal, informal, literary etc…
Address issues related to quality of life, including work-life balance and the family environment.
Understand and discuss ethics-related issues, such as civil disobedience.
It goes without saying that progress will depend heavily on the motivation and degree of involvement of the pupil in the learning process in which he or she has chosen to enroll.